Imprint
Supplier
BSLOG GmbH

Ing. Stefan Brenner
Consulting Engineers for Industrial Engineering
Engineers for Mechatronics and Automation


Marktplatz 22 | 4625 Offenhausen | Austria
office(at)bslog.at
+43 7247 2090300
ATU 71917768 | FN 465846v
court of jurisdiction Landes- als Handelsgericht Wels
banking information
Vorarlberger Landes- und Hypothekenbank Aktiengesellschaft, Filiale Wels

BIC HYPVAT2B
IBAN AT71 5800 0106 1354 7016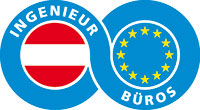 credits
photos
Ing. Stefan Brenner
concept, graphical representation & implementation
Data privacy
You will never be asked for personal information on this site. All analytical data obtained are used purely for statistical purposes, are never passed to third parties and will be stored and processed only on the own servers. For integrated third-party applications (social media plug-ins, map services, etc.) such as Facebook, Twitter or Google their current data protection regulations apply.
Disclaimer
The content of this site is created and updated by BSLOG to the best of their belief. Still, BSLOG can not guarantee the correctness, accuracy and currentness of the provided information. BSLOG excludes all liability for damages resulting directly or indirectly from the use of the provided content.
External links
Despite control of the landing pages and target files of external links at the time of deployment, BSLOG assumes no liability for the content of external websites and external files. For the content of linked pages and files solely their operators are responsible.
Copyright
© BSLOG GmbH | Ing. Stefan Brenner
Logo, layout and graphics respectively color composition of the website and the provided information are protected by copyright law.
This site is published and maintained by Ing. Stefan Brenner.
Webmaster
If you have questions or suggestions regarding this website, please send an e-mail to webmaster(at)bslog.at.
Cookies
This website uses cookies to personalize the preparation and visualization of functions and contents and to be able to track the usage and hits with the aid of a webtracking tool.
Opt-out for the implemented webtracking tool